1. What is the meaning of monochrome LCD display?
A monochrome LCD display, also known as a black and white LCD display, is a type of liquid crystal display (LCD) that can only display images in a single color, typically black or shades of gray.
Unlike color LCD displays, which use a combination of red, green, and blue (RGB) pixels to produce a full spectrum of colors, monochrome LCD displays use a single color pixel. This color is achieved by using a polarizing filter that blocks certain wavelengths of light and allows only the desired color to pass through.
2. How do monochrome LCD displays work?
Monochrome LCD displays work by controlling the transmission of light through liquid crystals. The display is composed of a layer of liquid crystals sandwiched between two transparent electrodes. much light is transmitted through the display.
To create an image on the display, the electrodes are used to apply a voltage to specific areas of the liquid crystal layer. This voltage causes the liquid crystals in those areas to align in a specific direction, which affects the amount of light that is transmitted through the display. The areas that are not addressed by the electrodes remain in their default state, which typically blocks the transmission of light.
The amount of light transmitted through each pixel of the display is controlled by a voltage applied to the liquid crystal in that pixel. By varying the voltage, different shades of gray can be created. Monochrome LCD displays typically have a higher contrast ratio and faster response times than color displays, which makes them well-suited for displaying text and simple graphics.
3. What are the types of monochrome LCD displays? How to classify monochrome LCD screen?
3.1 Classify according to the displayed content:
Segment code LCD screen, graphic dot matrix LCD screen (with Chinese character library and without Chinese character library respectively), character LCD screen
3.2 Classify from the process:
Segment code LCD screen, COB LCD screen, COG LCD screen, TAB LCD screen
3.3 Classify from the background of its display:
Yellow-green LCD screen, blue film LCD screen, gray film LCD screen
3.4 Classified from the materials used are:
TN, HTN, STN, FSTN, and VA are different types of LCD (liquid crystal display) technologies used in monochrome displays. It is possible to use all the materials of the segment code LCD screen. The dot matrix LCD screen uses more STN, and the others are relatively less used.These custom lcd displays both can be provided by our lcd module manufacturer.
TN stands for twisted nematic, which is the most common type of LCD technology. TN displays have a fast response time and are relatively inexpensive, making them suitable for applications that require simple displays, such as calculators and digital watches.
STN stands for super twisted nematic, which is an improvement over TN technology. STN displays have a higher contrast ratio and wider viewing angles, making them suitable for more advanced applications such as industrial instruments and medical devices.
FSTN stands for film-compensated super twisted nematic, which is an improved version of STN technology. FSTN displays have a wider temperature range and better contrast, making them suitable for applications that require high readability under various conditions, such as outdoor equipment and automotive displays.
VA stands for vertical alignment, which is a more advanced technology than TN, STN, and FSTN. VA displays have a high contrast ratio and a wide viewing angle, making them suitable for applications that require high-quality displays, such as laptops, smartphones, and televisions.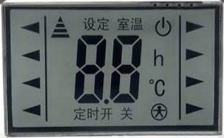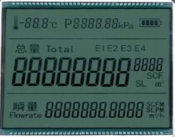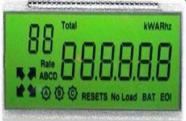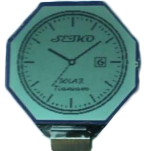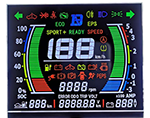 TN,HTN,STN ,FSTN,VA
3.5 In addition to the dot-matrix screens with and without Chinese fonts, they can also be distinguished by dot matrix:
For example: 12232, 12832, 12864, 19264, 160128, 160160, 24064, 240120, 320240, etc. The most commonly used ones are 12232, 12864, 24064, 320240.
3.6 There is also a distinction from the working temperature:
Divided into normal temperature (-20~70 degrees), wide temperature (lower than -20 or higher than 70 degrees), classified from the perspective, 6 o'clock perspective, 12 o'clock perspective, that is to say, the 6 o'clock direction of the clock or Look at the display from the direction of 12 o'clock.
4. What are the applications of Monochrome LCD display?
Customized monochrome displays using these technologies can be designed and manufactured according to specific requirements, such as size, resolution, and backlighting. This makes them suitable for a wide range of applications, from simple alphanumeric displays to more complex graphical displays.
The development prospect of monochrome display industry is good. Monochrome LCD displays are commonly used in devices such as digital watches, calculators, and some industrial control systems, where low power consumption, high contrast, and durability are important factors.They are also popular in e-readers, where the low power consumption and high contrast ratio of monochrome displays make them well-suited for displaying text.