1. Liquid Crystal Display (LCD)
At present, scientific and technological information products are developing towards the goal of light, thin, short and small, and display products with a long history in computer peripherals are of course no exception. Under the premise of being easy to carry and carry, traditional display methods such as CRT image tube displays and LED display panels are all subject to factors such as excessive size or high power consumption, which cannot meet the actual needs of users. The development of liquid crystal display technology is just in line with the current trend of information products. Whether it is a right-angle display, low power consumption, small size, or zero radiation, users can enjoy the best visual environment.
2. The birth of liquid crystal
To trace the origin of liquid crystal displays, we must start with the birth of "liquid crystal". In 1888, an Austrian botanist, Frederick. Friedrich Reinitzer discovered a special substance. He extracted a compound called spirotoluate from plants, and while doing heating experiments for this compound, he accidentally discovered that this compound has two melting points at different temperatures. Its state is between the liquid and solid substances that we generally know, and it is somewhat similar to the colloidal solution of soapy water, but it has both liquid and crystalline properties within a certain temperature range. The state was later named "Liquid Crystal", which means liquid crystal material. However, although the liquid crystal was discovered as early as 1888, it was 80 years later when it was really practical for the supplies around life.
In 1968, at the Shanov R&D Center of RCA Corporation (the invention of radio and television) in the United States, engineers discovered that liquid crystal molecules would be affected by voltage, changing their molecular arrangement and deflecting incoming light. The phenomenon. Using this principle, RCA invented the world's first screen using liquid crystal display. Since then, liquid crystal display technology has been widely used in general electronic products, such as calculators, electronic watches, mobile phone screens, instruments used in hospitals (because of radiation metering considerations) or screens on digital cameras.
Interestingly, the discovery of liquid crystals was earlier than vacuum tubes or cathode ray tubes, but the world did not know much about this phenomenon. It was not until 1962 that the first book was published by chemist Joe. Castellano (Joe Castellano) published books to describe. The same as the picture tube, although these two technologies were invented by the RCA company in the United States, they were carried forward by the Sony and Sharp companies in Japan respectively.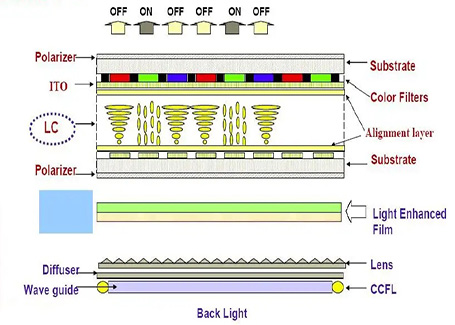 3. Basic knowledge of LCD
Liquid crystal display is a passive display, it cannot emit light and can only use the light of the surrounding environment. It requires very little energy to display patterns or characters. It is precisely because of low power consumption and miniaturization that LCD has become a better display method. The liquid crystal material used in liquid crystal display is an organic substance with both liquid and solid properties. Its rod-like structure is generally arranged in parallel in the liquid crystal cell, but its arrangement direction can be changed under the action of an electric field.
For positive TN-LCD, when no voltage is applied to the electrodes, the LCD is in the "OFF" state, and light can pass through the LCD to be in a white state; when a voltage is applied to the electrodes, the LCD is in the "ON" state, and the direction of the long axis of the liquid crystal molecules is in the "OFF" state. Aligned along the direction of the electric field, the light cannot pass through the LCD and is in a black state. By selectively applying a voltage to the electrodes, different patterns can be displayed.
For STN-LCD, the twist angle of the liquid crystal is larger, so the contrast ratio is better and the viewing angle is wider. STN-LCD is displayed based on the principle of birefringence. Its primary color is generally yellow-green, and the font is blue, which becomes a yellow-green mode. When using a violet polarizer, the base color will turn gray into a gray mold. When using a polarizer with a compensation film, the base color will become close to white. At this time, STN becomes a black and white mode, which is FSTN. The polarizer of the above three modes is turned 90°, which becomes a blue mode, and the effect will be better.
4. Types of LCD monitors
Liquid crystal display, commonly known as LCD (Liquid Crystal Display) in English, is a type of flat-panel display. According to the driving method, it can be divided into static drive (Static), simple matrix drive (Simple Matrix) and active matrix drive (Active Matrix) three. Among them, passive matrix type can be divided into twisted nematic (Twisted Nematic; TN), super twisted nematic (Super Twisted Nematic; STN) and other passive matrix driven liquid crystal displays; and active matrix type can be roughly divided into Thin film transistor type (Thin Film Transistor; TFT) and two-terminal diode type (Metal/Insulator/Metal; MIM) two ways.
TN, STN and TFT type liquid crystal displays have differences in viewing angle, color, contrast and animation display quality due to the difference in the twisting principle of liquid crystal molecules. In terms of the scope and level of application of the current liquid crystal display technology, the active matrix driving technology is mainly based on the thin film transistor type (TFT), which is mostly used in notebook computers, animation and image processing products. The pure matrix drive technology is currently dominated by twisted nematic (TN) and super twisted nematic (STN), and the current applications are mostly word processors and consumer products. Among them, the capital investment and technical requirements required for TFT liquid crystal displays are relatively high, while the technical and capital requirements required for TN and STN are relatively low.